It's been a rather eventful summer, politically, economically (no surprise there, though) and personally (my sister's first visit in Singapore and her second in 22 years living in Asia).
I have again read very interesting and disturbing books… "When the rivers run dry – water, the defining crisis of the 21st century" by Fred Pearce (the author of "Confessions of an eco-sinner" and "The last Generation" amongst others) and "annoying – the science of what bugs us" – a greatly enlightening read about my own irritability…so much for bio-chemical reactions…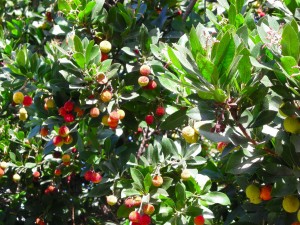 I am truly happy to see that so many neighborhood gardens spring up all over the Island, in housing estates, in between built up areas and in our little corner of Singapore, every available space on the sidewalks is converted into ornamental and, to my great pleasure, edible kitchen gardens!
People start producing their own food, from planting simple herbs to smaller fruit trees and vegetable vines, this truly is fantastic to see – whether the reason are the steadily increasing food prices or simply the joy of seeing plants grow, tending to them and harvesting their own fruits of love and labour, is unsubstantial.
Working the soil, turning non-descript walkways and front yards into blooming, colorful and productive spaces is a truly positive development!
A movement all over the world which has clearly caught on here, too!