unless you are a plant lover, especially herbs such as rosemary, lavender and basil, you might not have heard of this great herb grower and man.
he died early this year, aged 69. In 1999, he was diagnosed with early onset of Alzheimer's disease, he was only 57 then.
he was once called the best "rosemaryologist" in the US. he dedicated a gold-edged leave variety to his wife, Joyce DeBaggio, but he could suddenly not remember the name of the plant he grew so successfully and loved the most.
he has written books on his love and knowledge of plants: "Growing herbs from seed, cutting and root", "Basil, an herb lover's guide" and with Arthur Tucker "The big book of Herbs".
but he also wrote incredibly touching and educational books on his disease: "Loosing my mind – an Intimate look at life with Alzheimer's" and "When it get's dark".
I recently read "Loosing my mind" where he goes back and forth between his past memories, the painful present and add lots of information on the disease and medical research.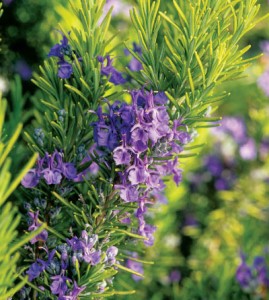 quote
The diagnosis, with little or no workable therapies to stop it, was a sentence of death as surely as birth, but more immediate.
I am running after thoughts all day. Ideas evaporate like snowflakes on a hot tin roof. A few years ago I felt as normal and was as sharp mentally as my thirty-five year old son. Now, I can't remember his age or do the math in my head to figure it out. My mind is starting to break down. I have to wait like a hunter to capture a thought, it is tough work all day but it often flits away before I can put it on paper.
I want to cry and I do, but it is a peculiar sound, like a man choking to death. I want to scream but it won't come. Where did my voice go?
As I sit in the waiting room for the doctor, I realize I am here at the edge of failure and of hope.
I have grown plants, herbs, and vegetables mostly, since I was six and for the last twenty –five years commercially. As a job, this activity allowed me a close look at the life and death of other species.
My prolonged contact with plant life has provided me with an insight on the similar life and death of my own.
We scream louder.
unquote